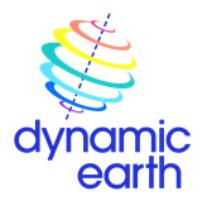 EVENTS CO-ORDINATOR
Organisation: Dynamic Earth
Salary: £21,000
Location: Holyrood Road, Edinburgh
Dynamic Earth is a unique and iconic visitor's attraction; it is like nothing else on Earth. It's a chance to experience the primeval forces of nature as they shaped our planet, to journey through space and time and even go on a 4D VENTURE around the world. You'll be embarking on the interactive adventure of a lifetime – the lifetime of our planet. This means that you will be working in an exhilarating, interesting and engaging work environment.
SALARY £21,000 per annum
SUMMARY
Responsible for ensuring event enquiries are recorded in detail, planned effectively and well communicated to relevant departments. Assist in all aspects of the corporate hospitality sales function. Co-ordinate Christmas Party nights in December 2022 at Dynamic Earth.
KEY DUTIES
• Work closely with clients to ensure they are completely satisfied
with all aspects of the organisation of their event.
• Liaise with relevant departments to ensure the events run
smoothly both in terms of planning and 'on the day'.
• Carry out site tours as required.
• Administer bookings thoroughly and efficiently, taking care to
adhere to the systems in place for dealing with enquiries /
bookings.
• Assist the Events Manager to produce detailed sales forecasting
information for the Commercial Director.
• Compilation of detailed function sheets for each event for
discussion at weekly sales/operations meeting.
• Attend weekly sales/operations meetings in order to thoroughly
brief the operations team on all events.
• Work with the Sales Manager and events team to ensure the full
potential of events business is met.
• Ensure the correct invoice procedure is used at all times.
• Contact events clients regarding feedback following an event.
• Work with all colleagues in a positive and constructive manner.
• Carry out any other duties to help ensure greater efficiency of
sales / events department.
CHRISTMAS ACTIVITY
• Work on Social Media sales plan to produce relevant social media
content for promoting Christmas alongside marketing team
• Work on Christmas e-mail shot campaign alongside marketing
team
• Conduct regular sales activity including follow up of potential new
bookings, chase calls to provisional bookings, promotional
exhibition stands to prospect new Christmas party night bookings
• Administer Christmas party bookings efficiently following the
systems in place for handling enquiries, taking bookings and
entering into the booking system
• Produce the function sheets for all Christmas party nights along
with table plans and liaise with suppliers and the internal team
• Provide a meet & greet service at all party nights throughout
December
• Carry out Christmas competitor analysis
• Produce and analyse event feedback questionnaires via survey
monkey
• Attend and contribute to the Christmas planning meetings
SKILLS/EXPERIENCE
Essential:
• Experience of organizing events within a multi-discipline
hospitality and events organization
• Ability to work effectively under pressure
• Proven ability to meet multiple tight deadlines and organize
concurrent projects
• Confident in building and maintaining business relationships and
positive rapport with clients
• Strong communication skills are essential, both written and
verbally
• Good time management and ability to prioritise
• Must be an excellent team player
• Ability to work unsupervised
• Experience using IT packages such as word excel and Microsoft is
essential
Desirable:
– Degree or equivalent level qualification or gained experience in a
relevant discipline
– Experience of an administrative role
– Experience of organizing events within a multi-discipline
environment
Additional Benefits
• Limited complimentary entry to Dynamic Earth for family and
friends
• Free staff car-parking
• 25% Discount in the Natural Selection Gift Shop
• Subsidised meals from the Food Chain Café
• Free entry to ASVA member Visitor attractions (subject to
conditions)
• Limited Gym Membership at MacDonald Holyrood Hotel
• Staff Canteen (complimentary tea, coffee, bread)
• Matched company pension contribution of 5%
• Life assurance benefit of 4 times annual salary
• Critical Illness cover
• Confidential advice-line through Health Assured
• Annual leave entitlement of 34 days (including public holidays).
CLOSING DATE: Sunday 27th March 2022
TO APPLY: Send a covering letter and CV to james.gray@dynamicearth.co.uk.
Application Deadline: Wednesday 23/03/2022