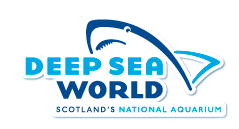 Operations Supervisor - Retail
Organisation: Deep Sea World
Salary: Salary: £20,384.00 per year
Location: Deep Sea World, North Queensferry, Fife
As an Operations Supervisor – Retail at Deep Sea World you will lead by example and support in ensuring that the aquarium teams deliver excellent service and understand that the retail gift shop experience is a key element of the visitor journey. You will understand what our visitors are looking for and develop the presentation of our gift shop and its range of goods to deliver excellent results.
At Scotland's National Aquarium, located beneath the world famous Forth Rail Bridge, in North Queensferry, we are easily accessible by road or rail, just 19 minutes out of Edinburgh Waverley by train. We offer visitors the chance to experience the UK's longest underwater viewing tunnel, mysterious coral reefs, majestic sharks and our amazing seal sanctuary. Over 40 displays, including the 4.5-million-litre Underwater Safari with its walkthrough tunnel, are home to hundreds of fascinating creatures, ranging from seals and seahorses to stingrays and giant sand tiger sharks.
Responsibilities
You will be responsible for the management of the retail operation ensuring high standards of customer service and guest experience, promoting sales and profit growth whilst controlling stock. Supporting guest experience and catering teams ensuring a smooth daily operation by anticipating operational and customer and creating a positive, memorable guest experience.
– To drive commercial performance of the retail sales operation by increasing turnover, delivering KPIs and maximising profitability
– Understanding and anticipating our visitor needs and demands regarding product, merchandising and customer service adapting our offer to meet those demands
– To analyse sales figures to inform merchandising and forecast future sales to plan stock levels to maximise profits
– To organise special promotions, displays, seasonal displays and events and markdowns as necessary
– To control, check and manage stock deliveries ensuring stock rooms are efficiently managed, tidy, safe and secure
– To utilise EPOS to ensure high speed of service by managing till screens effectively, using bar coding on retail products
– To carry out all functions of stock takes as required
– To ensure all outlets are prepared ready for opening and closed efficiently at the end of the day and stock secure and correctly accounted for
– Act as a role model for all customer-facing staff and volunteers and set an example for good customer service, engagement and health & safety practices
– Maintain an active presence in the attraction' providing feedback and solutions to the General Manager
– Support the Guest Services team, managing customer feedback and working as part of the Aquarium team to continue to improve the visitor journey.
– To assist the Deep Sea World team with all aspects of sales and bookings, ensuring a full knowledge of the Venpos sales and booking system.
As part of the wider aquarium supervisory team, covering Duty Management you will also carry out other responsibilities as required, including crisis management, operational issues, staff training, paperwork/ record keeping, health and safety etc.
Why work for us?
Aspro Parks is a multinational company which operates more than 85 leisure attractions in Europe. Here in the UK Aspro owns Blue Planet Aquarium, Deep Sea World, Bristol Aquarium, Tynemouth Aquarium, 3 Blue Reef Aquariums, Smugglers Adventure and Oakwood Theme Park.
Here at Aspro, we make sure our employees are well taken care of. We recognise that their hard work and dedication are the driving force behind our success.
As well as providing a fun, interesting and informal working environment, we also offer:
· Free entrance into all Aspro Parks
· Free entrance into Deep Sea World for you, your family and friends
· Discount in our retail outlet
· Discount in our restaurant
· Regular training and development via our All-Aboard training scheme
· Free Shark Dive (on successful completion of your 6 month probationary period)
· Free on site parking
· Sociable working hours (the aquarium is open all year round apart from Christmas Day and New Year's Day between 10am and 5pm/6pm).
How to Apply
If interested, please apply using your CV & covering letter via our indeed page.
We do recognize the time and effort it takes to apply for a position, however as an employer of choice we receive a high volume of applications and in the interests of economy, Aspro UK does not notify candidates who have been unsuccessful in their application; consequently if you have not heard from us within 4 weeks of the closing date, please assume that you have not been successful on this occasion
Equal Opportunities
Aspro UK are an equal opportunity employer. All applicants will be considered for employment without attention to race, colour, religion, sex, sexual orientation, gender identity, national origin, and veteran or disability status.
Job Types: Full-time, Permanent
Application Deadline: Friday 08/04/2022