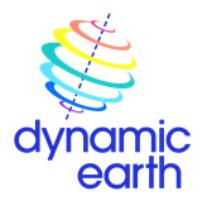 Planetarium Officer
Organisation: Dynamic Earth
Salary: £22,500
Location: Holyrood Road, Edinburgh
Role: Planetarium Officer
Responsible to: Planetarium Manager and Planetarium Assistant Manager
Hours of Work: Monday-Friday 09:00 – 17:30 (regular evening and weekend working required)
Contract: Fixed term, 1 year (37.5hours/week)
Salary: £22,500 p.a.
Start Date: July 2022 or as soon as possible.
ABOUT US
Dynamic Earth is Edinburgh's Science Centre and one of Scotland's four permanent centre's dedicated to lifelong science learning and engagement. We are the only science centre in the UK dedicated to the story of planet Earth; our permanent exhibition galleries and associated engagement programmes are at the heart of the audience experience and the delivery of our charitable mission. We develop and deliver a wide range of formal and informal learning and engagement programmes on a wide range of Earth and Environmental Science topics which empower people with an understanding and empathy for the Earth. Our portfolio of events and experiences which we develop and deliver with audiences aim to inspire, inform and empower people of all ages and backgrounds with an understanding of the Earth and its future.
DESCRIPTION OF ROLE
The Planetarium Officer is a key role, primarily delivery focused, working with the Planetarium Manager and Assistant Manager to deliver live shows both in our main planetarium and as part of our portable dome programme. This is a particularly exciting time to be joining the planetarium team as our core programme(s) continues to evolve and we further build our planetarium audience over the coming year. The Planetarium Officer will be responsible for delivering presenter-led shows to a high level of scientific accuracy and to help ensure the highest quality experience for our visitors. There will also be occasional special community/creative/evening events in the planetarium, including extended editions of our live shows, as the programme(s) continue to evolve.
MAIN DUTIES
• Works with the Planetarium Manager and Planetarium Assistant Manager to deliver our core planetarium programme(s) to the highest possible standard
• Responsible for regular delivery of live shows in our main planetarium, drawing on scientific expertise and enthusiastic delivery to engage a wide range of audiences.
• Responsible for regular portable planetarium delivery duties (travel will be required) for a diverse range of audiences and venues
• Undertakes full training with the Digistar 7 software, with a view to creating and developing their own content if desired
• Undertakes full technical training in the operation of both planetariums including troubleshooting and health & safety procedures
• Contributes to content creation for the planetarium shows and digital/online media
• Works with the wider Marketing, Corporate and Visitor Services teams to coordinate and deliver special events, such as evening ticketed events, public engagement events and corporate events that utilise the planetarium
• Ensure science engagement is delivered to a consistently high standard with strong scientific integrity reflecting the core messages and themes of Dynamic Earth.
• Any other duties as required.
Desirable Person Specification and Qualifications:
• Undergraduate degree or above in astronomy, Earth-sciences or other relevant discipline or equivalent lived experience
• Excellent organisational and communication skills
• Proven aptitude for and experience of engaging diverse public audiences with relevant science content
• Valid driving license would be advantageous
Other staff benefits include the following:
• 34 days annual leave (which includes 9 bank holidays)
• Complimentary entry to Dynamic Earth for family and friends (subject to conditions)
• Free staff car-parking
• 25% Discount in the Natural Selection Gift Shop
• Subsidised meals from the Food Chain Café
• Free entry to ASVA member Visitor attractions (subject to conditions)
• Limited Gym Membership at MacDonald Holyrood Hotel (subject to conditions)
• Staff Canteen (complimentary tea, coffee, bread)
• Staff Excellence Award – High street vouchers
• Matched company pension contribution of 5%
• Confidential advice-line through our Employee Assistance Programme
• Company workwear issued including dynamic earth branded polo shirts and fleece (where appropriate)
• Life Assurance cover of 4 times annual salary
• Critical Illness cover
To apply, email Dr Alastair Bruce, Planetarium Manager, on Alastair.Bruce@dynamicearth.co.uk setting out why you think you are the best person for this job and attach a copy of your CV (2 pages max). If you would like an informal chat about the role, please send Alastair an email.
The deadline for applications is midnight on Friday 10th June. You will be notified by the end of the day on Tuesday 14th June if you have been selected to attend an initial interview for the position.
Initial interviews for this vacancy will be held on Tuesday the 21st June.
Application Deadline: Friday 10/06/2022